Custom Solutions
Custom Engineered Truck Chassis
We work with Engineered Chassis Systems to provide custom solutions that are tailored to fit your business. We are able to build a truck for entry into any state or province, Using specific axle spreads and configurations for excessive weights. Here at Nuss our team has a valuable pedigree of experience, we have been trusted with the toughest of jobs. Together - we can make it happen.
Our experienced engineering staff works with you to custom tailor your truck to fit your business needs. Our staff designs all the parts, leads the build in the proper direction, and goes through each chassis during and after the build to make sure the truck leaves our facility ready to go to work. Contact our team of experts and put our engineering knowledge to work for your business's needs.
As a full service chassis modifier for the large truck market, we offer:
Twin-steer, Tri-Steer, Rear-Steer Conversions
Laser alignments
Light maintenance
DOT certification
Frame Extensions
Wheelbase changes
Additional frame support
Pusher/Tag Axles
All-Wheel Drive conversions
Power Take Off mounting
Custom Engineering
Air Ride Conversions
Body Installations
Truck Customization
Export modifications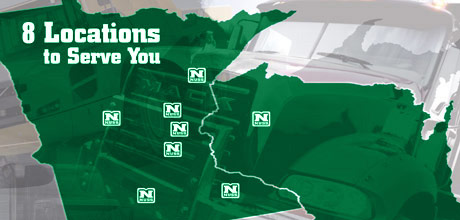 Find Your Nearest Sales Professional
Brands you trust and a dealer you can rely on, we are committed to keeping you and your business running. Find one of our eight locations near you.
Dedicated to helping your business stay on the move.